The Authentic roots of:
       'The Black Dragon School of Martial Arts'
The Black Dragon has a rich past of traceable documented history containing various Grand Masters of a variety of disciplines. It is this unique history that is directly responsible for the success of our students.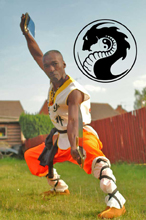 Sifu's own words:
I was born in St Vincent in 1954 and came to England in 1966 aged 12.  I started western boxing at the age of 14 years at Didcot Boxing Academy.  A couple of years later I moved to Aylesbury, Buckinghamshire, where I started Shotokan Karate.  After a short while I felt this was not the art for me, even though I enjoyed it very much and what really swayed me towards the Chinese martial arts was the late, great Bruce Lee.
I enjoyed watching the TV programme Kung Fu, starring David Carradine in the role meant for Bruce Lee.  However, upon seeing Bruce Lee in an episode of Long Street on TV in the early 1970's, I was hooked and then when I saw Big Boss, there was no turning back.  Kung Fu was to become a way of life for me; the training, discipline, philosophy and meditation. All have contributed to giving me a more balanced life and a feeling of well being.
My first real encounter with the Chinese Martial Arts was when I moved to Watford in 1972 aged 18.  My next door neighbours were a Chinese family named Lee, ironically.  I became friendly with the eldest son, Sifu Lee Chen; he was about 23 years old at the time.  I studied with Lee for about 18 months until the family moved away.  With Lee I studied Southern style Kung Fu and Wing Chun. At the time I did not realise what great tuition I was getting until much later on.
I have been training and studying the Chinese martial arts for over 30 years now and I have been teaching for the past 17 years to students from all walks of life.
---
Present Grand Master: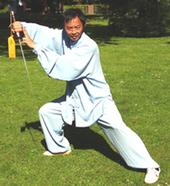 Grand Master Kongjie Gou of the Oxford Taiji Gongfu Institute.  I give special thanks to Grandmaster Gou for his acceptance, also for his teaching and inspiration that he has given to me personally and to all the students of the Black Dragon School.
In my martial arts career I have studied under some great Grandmasters, Masters andSifu's, all with outstanding skills, etiquette and substance:
Grandmaster Kongjie Gou – Oxford Taiji Gongfu Institute.
Grandmaster Simon Lau – Wing Chun. Simon Lau academy of excellence, London SW1.
Grandmaster Li Nga Fong – Taipo, Hong Kong, Chen style Taijiquan.
Master Eric Hardy – Indoor senior student to Master Joseph Cheng, Wing Chun.
Master Rudie Bynoe – Chen style Taijiquan and Qigong.
Sifu Brian Desir – Wing Chun Athletic Association.
Sifu David McKenzie – The Wing Chun School, London.
Wayne Husband – Lau Family Hung Gar.
Master William Wan – Northern style Kung Fu – Hong Kong.
Master James Wong – Chen style Taijiquan – Hong Kong.
Shi Heng Xuan – 35th generation Shaolin Monk.
Sifu Julian Dale – Lau Fat Mang World Eagle Claw Kung Fu Institute – senior student to Master Gini Lau.
Shifu Zhe – Eight Dragon Society, Oxford Taiji Gongfu Institute.
Miss Al – BUTF Taekwondo Federation.
I would like to thank all the above Grandmasters, Masters, Sifu's and all my Kung Fu brothers and sisters who have helped me along the way in my training in the martial arts.  Thank you for your guidance and patience.  Amitoufu